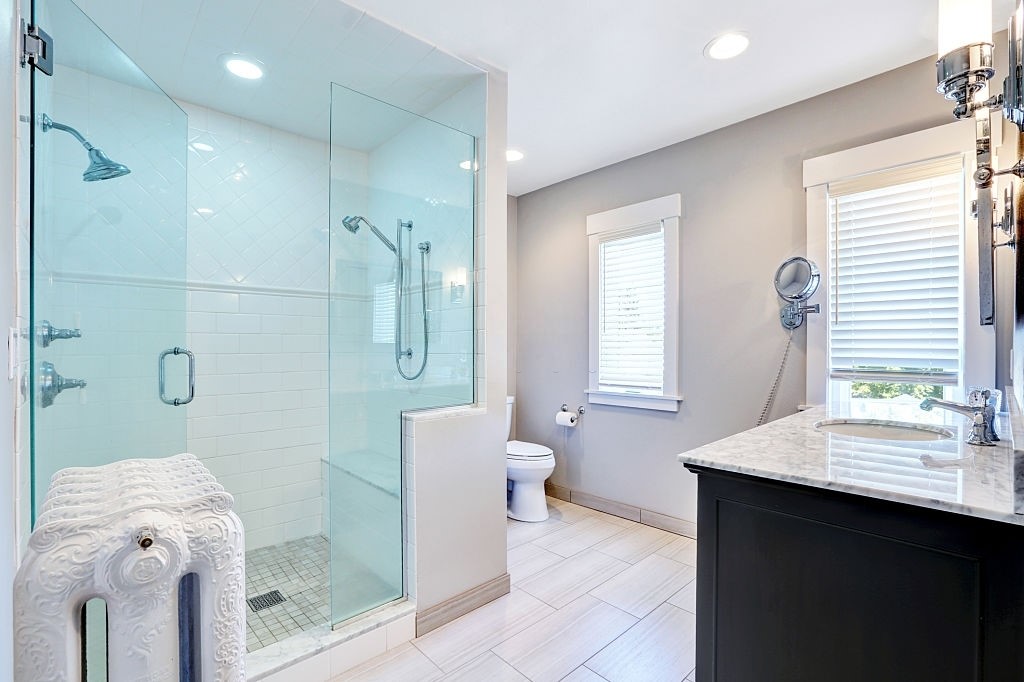 Glass Enclosure around Shower. Installing a glass enclosure around shower is quite a trend these days. The looks and spacious vibe of the custom glass shower enclosure is something invaluable. Homeowners can even install a glass shower door in a small size bathroom.
The installation cost of a custom glass shower door is an aspect that can turn down some hopes. However, there are many factors that are linked with its cost. The good news is that you can install one in your bathroom without breaking the bank. This article will help you get an idea about the actual cost of installing different types of glass enclosures around the shower.
Factors That Affect the Overall Installation Cost
When we talk about the glass shower door installation cost, many factors contribute to the installation cost. So, it is essential to know those factors before purchasing. Here are some of those factors.
1: The Dimensions of the Shower Enclosure
The first and foremost factor is the dimensions of your shower enclosure. Larger bathrooms usually have large shower enclosures. On the other hand, compact bathrooms won't require a hefty custom glass shower enclosure setup. So, the dimensions will vary for each shower enclosure. 
2: Glass Type and Thickness
You can choose from various glass types and thickness options. Clear glass, rain glass, frosted glass, and tinted glass types are a few to name here. Similarly, the thickness levels also vary for each glass type.
3: The Customization Factor
Custom glass shower enclosures let homeowners customize their different aspects. Like we mentioned, the customized approach comes with an additional cost. However, it helps the majority get the most out of their shower enclosure.
What is the Cost of a Frameless Shower Door?
The frameless shower door design is definitely worth spending some extra bucks. That means its installation might get a bit expensive. Anyhow, the feel and clean looks it offers are something that homeowners really look for.
Frameless shower enclosures require a bit thicker glass for maximum safety. Further, as they don't have a frame, some additional accessories are required to install them properly. Because of these factors, its installation varies from $600 to $1499.
What is the Cost of a Framed Shower Door?
The most common glass shower doors are the framed ones that most people opt for. Thanks to their supportive frame, they're quite strong and durable. Despite the presence of a frame, it is best to go with adequately thick glass for framed shower doors. They usually cost around $500 to $1300.
What is The Cheapest Glass To Install As a Shower Door?
You can even install a glass shower door on a tight budget. For this, you'll have to consider the cheapest glass, i.e., rain glass or clear glass. Both these glass types don't cost as high as some other options. The rain glass should cost around $200 to $350.
Similarly, the cost of clear glass varies from $300 to $600. Compared to other types of glass, these options are quite good in their own regard. The rain glass also offers better privacy here. On the other hand, the clear glass comes with sleek, elegant, and modern looks. But, again, any further customization can also raise these estimated prices.
4: Cost of Adding Durability to Shower Door?
Glass shower enclosures are generally pretty durable. However, for added durability and strength, there is plenty of room for customizations. For instance, you can choose a premium quality glass with an adequate thickness level for maximum safety and durability.
Laminated glass is one premium quality glass for adding unmatched safety and protection. This particular glass type is a bit costly. But, in return, it offers perfect peace of mind as it is even more durable than tempered glass. So, the options are available. If you have the budget, you can always install a customized shower door as per your requirements.
5: Cost of Customized Shower Door Vs Ready to Order Glass Doors?
| | |
| --- | --- |
| Customized Shower Door | Ready-to-Order Glass Doors |
| 1: The customized shower door can cost around $1500 to $3500. | 1: The ready-to-order glass shower doors cost around $600 to $1500. |
| 2: From the glass type to its shape and appearance, you can customize its every aspect. | 2: Ready-to-order glass shower doors cannot be heavily customized. |
| 3: The Customized approach comes with an additional cost. | 3: Readily available glass doors are a bit cheaper than customized glass shower doors. |
Final Note! Glass Enclosure around Shower
So, that was a brief cost comparison of various types of custom glass shower enclosures. In this regard, it is best to know different factors that vary the actual installation cost. Note that the prices shared above are estimated prices.
Additional customizations and the labor cost can vary the installation cost of each shower door. So, keep that in mind. Last but not the least, never compromise on the quality of your glass shower door. It is recommended to buy from a reliable glass vendor for the best prices and peace of mind.